Nº 4 / 2015 - octubre-diciembre
Debt Funds. Regulatory framework in the Act 22/2014. Can Venture Capital Funds operate as Debt Funds?
Íñigo Erláiz Cotelo
Gómez-Acebo & Pombo
Valentina Rodríguez
Gómez-Acebo & Pombo Abogados, SLP
Abstract:
The recent financial crisis has meant a reduction of the banking credit, and an increase of the level of indebtedness of companies and individuals. This, together with the constraints for the banks resulting from the new model of Basilea III and a progressive "un-bankarization" of the financial intermediation market, has led to a proliferation of debt funds, suppliers of shadow financing.
This article describes, although generally and to a limited extent, the main requirements for the incorporation and management of a debt fund in Spain. The Act 22/2014 that regulates venture capital entities and other entities of collective investment of the closed-end type, introduces a regulatory framework that generally will be applicable to debt funds, being these subject to requirements to start operating and of supervision. It will also be analyzed the possibility of venture capital entities to operate as debt funds or have a direct lending activity.

Keywords: debt funds, venture capital funds, regulatory framework, shadow financing, direct lending.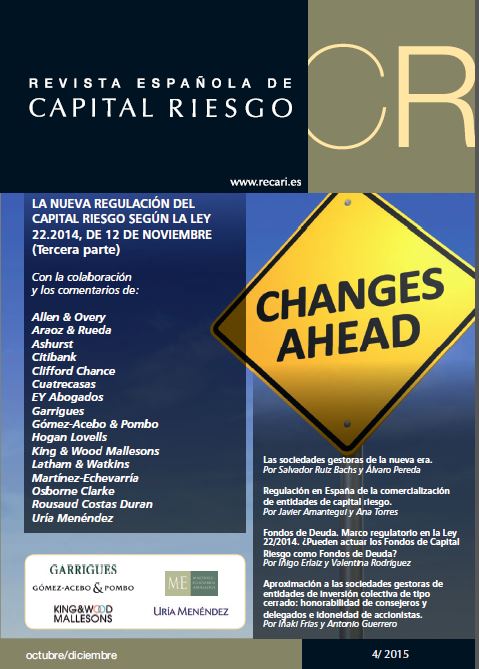 DIRECCIÓN REVISTA ESPAÑOLA DE CAPITAL RIESGO
Prof. Dr. D. Rafael Marimón
Catedrático de Derecho Mercantil
Universidad de Valencia
DIRECCIÓN BOLETÍN DE ACTUALIDAD DEL MERCADO ESPAÑOL DE CAPITAL RIESGO
Sr. D. Miguel Recondo
Instituto de Capital Riesgo (INCARI)