julio-septiembre 2011
ESTUDIOS, NOTAS Y COMENTARIOS
La problemática que plantea la disciplina de grupos de sociedades
en el ámbito de la actividad de las entidades de capital-riesgo
[Private equity / Venture capital and commercial contracts]
Inversión en capital riesgo y defensa de la competencia (I) Operaciones de inversión de las ECR: criterios para la notificación a las Autoridades de la Competencia.
[Private equity / Venture capital and commercial contracts]
Capital Riesgo y sostenibilidad del actual modelo económico del gran futbol europeo. La verdad oculta tras los números del gran fútbol europeo.
[Reports and sector analyses]
El capital riesgo en Brasil: evolución, práctica y tendencias
[Private equity / Venture capital legal framework]
Responsabilidad penal de las personas jurídicas. Regulación, prevención e incidencia en el sector de capital riesgo.
[Private equity / Venture capital and commercial contracts]
Revista Española de Capital Riesgo
Instituto de Capital Riesgo, CIF G87078499, c/ Princesa 31-6º, Dep.6, 28008 Madrid
Ebsco, Latindex, Isoc, Dice, Ulrich, Dialnet, Resh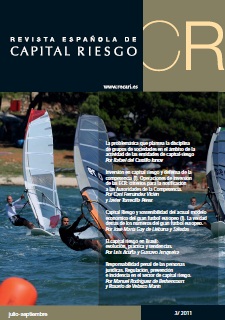 DIRECCIÓN REVISTA ESPAÑOLA DE CAPITAL RIESGO
Prof. Dr. D. Rafael Marimón
Catedrático de Derecho Mercantil
Universidad de Valencia
DIRECCIÓN BOLETÍN DE ACTUALIDAD DEL MERCADO ESPAÑOL DE CAPITAL RIESGO
Sr. D. Miguel Recondo
Instituto de Capital Riesgo (INCARI)