Nº 3 / 2016 - julio - septiembre
Marketing of private equity and venture capital funds from Spain (and other countries) in Germany – a practice guide
Christian Hillebrand
P+P Poellath + Partners
Abstract:
The rules on marketing of private equity and venture capital funds in Germany have been totally revised upon the implementation of the Alternative Investment Fund Managers Directive (AIFMD) by the Capital Investment Act (KAGB).

This article summarizes the most important requirements for the marketing of foreign funds by foreign fund managers and gives an overview of the new legal regime.
Keywords: Marketing, Germany, AIF, Pre-Marketing.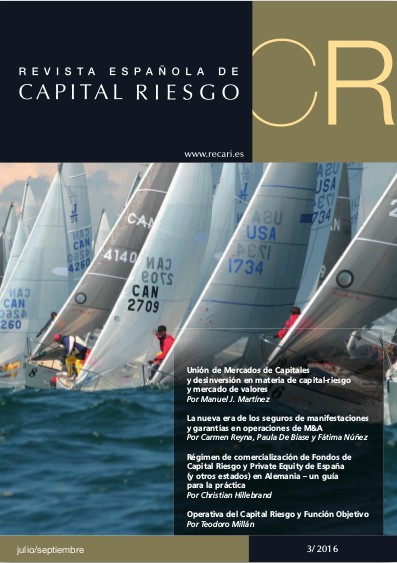 DIRECCIÓN REVISTA ESPAÑOLA DE CAPITAL RIESGO
Prof. Dr. D. Rafael Marimón
Catedrático de Derecho Mercantil
Universidad de Valencia
DIRECCIÓN BOLETÍN DE ACTUALIDAD DEL MERCADO ESPAÑOL DE CAPITAL RIESGO
Sr. D. Miguel Recondo
Instituto de Capital Riesgo (INCARI)