Nº 2 / 2015 - abril-junio
SGEIC's policies and procedures on remuneration in the new regulation of venture capital after Law 22/2014).
Jorge Canta
Cuatrecasas, Gonçalves Pereira
Ana Pineda
Cuatrecasas, Gonçalvez Pereira
Abstract:
Among the innovations introduced in the Spanish venture capital legislation implementing the DGFIA, the measures regulating SGEIC's remuneration policies are to be highlighted. Although the normative references (Law 22/2014 and LIIC by reference) are succinct, the related ESMA Guidelines extensively develops the remuneration principles applicable, as well as target SGEIC employees and the concepts to be included or excluded from these policies (highlighting
the treatment received by the carried interest).
Keywords: remuneration, AIFMD, ESMA Guidelines; carried interest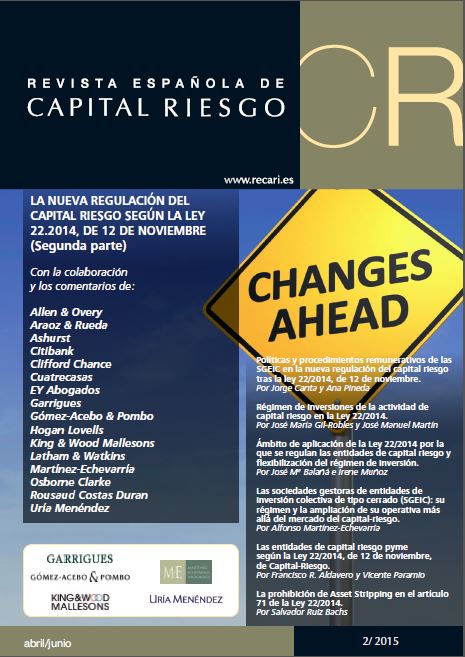 DIRECCIÓN REVISTA ESPAÑOLA DE CAPITAL RIESGO
Prof. Dr. D. Rafael Marimón
Catedrático de Derecho Mercantil
Universidad de Valencia
DIRECCIÓN BOLETÍN DE ACTUALIDAD DEL MERCADO ESPAÑOL DE CAPITAL RIESGO
Sr. D. Miguel Recondo
Instituto de Capital Riesgo (INCARI)