Nº 1 / 2015 - enero-marzo
New legal framework for closed-ended funds depositaries: role and liabilities
Josefina García Pedroviejo
Uría Menéndez
Abstract:
One of the main novelties introduced by the new legal framework for venture capital that has been established as a consequence of implementation of Directive 2011/61/EU of the
European Parliament and of the Council on Alternative Investment Fund Managers is the new obligation of appointing a depositary in certain cases.
The purpose of this work is to briefly analyse the obligations and liabilities of the depositary under the new legal framework.
Keywords: Depositary, custody, EICC, AIFMD.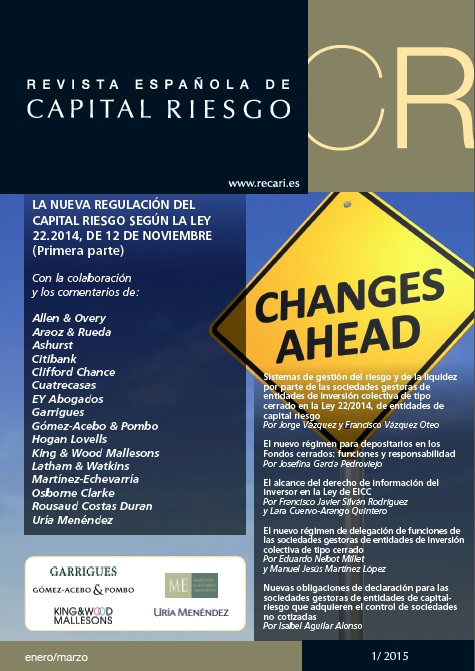 DIRECCIÓN REVISTA ESPAÑOLA DE CAPITAL RIESGO
Prof. Dr. D. Rafael Marimón
Catedrático de Derecho Mercantil
Universidad de Valencia
DIRECCIÓN BOLETÍN DE ACTUALIDAD DEL MERCADO ESPAÑOL DE CAPITAL RIESGO
Sr. D. Miguel Recondo
Instituto de Capital Riesgo (INCARI)