Nº 4 / 2014 - octubre-diciembre
Reflecting on business valuation methods: A valuation model based on value creation

Leandro Cañibano Calvo
Universidad Autónoma de Madrid
Beatriz Garcia Osma
Universidad Autónoma de Madrid
Abstract:
Despite the predominance of cash-flow based methods in business valuation, other theoretically sound methods may also be applied to valuation, leading to accurate estimates of firm value. In this article, we first reflect on the key steps to value a business. After briefly reviewing widely used valuation models, we present an accounting-based model that
builds on the idea of value as defined by residual income or abnormal earnings. We provide an example of how this residual income valuation model can be used in practice and briefly review academic evidence highlighting the strengths of this model.

Keywords: Valuation methods, Residual Income, Multiples, Accounting-based valuation.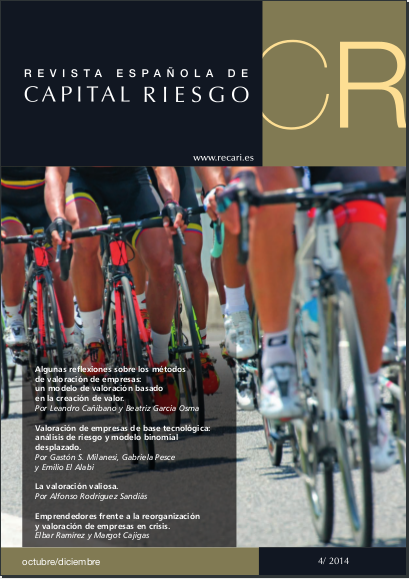 DIRECCIÓN REVISTA ESPAÑOLA DE CAPITAL RIESGO
Prof. Dr. D. Rafael Marimón
Catedrático de Derecho Mercantil
Universidad de Valencia
DIRECCIÓN BOLETÍN DE ACTUALIDAD DEL MERCADO ESPAÑOL DE CAPITAL RIESGO
Sr. D. Miguel Recondo
Instituto de Capital Riesgo (INCARI)