octubre-diciembre 2010
ESTUDIOS, NOTAS Y COMENTARIOS
Adquisición de participaciones en grupos refinanciados.
[Financing of private equity transactions]
El mercado secundario de los fondos de capital riesgo y su valoración (II). Las valoraciones en el mercado.
[Private equity and M&A general theory]
Responsabilidad civil por el contenido del folleto informativo de incorporación al MAB y su cobertura aseguradora.
[Private equity / Venture capital and capital markets]
Capital riesgo filantrópico: generación de deal-flow y selección de proyectos.
[Philantropic private equity]
Salida al MAB: análisis de las experiencias empresariales recientes
[Private equity / Venture capital and capital markets]
Revista Española de Capital Riesgo
Instituto de Capital Riesgo, CIF G87078499, c/ Princesa 31-6º, Dep.6, 28008 Madrid
Ebsco, Latindex, Isoc, Dice, Ulrich, Dialnet, Resh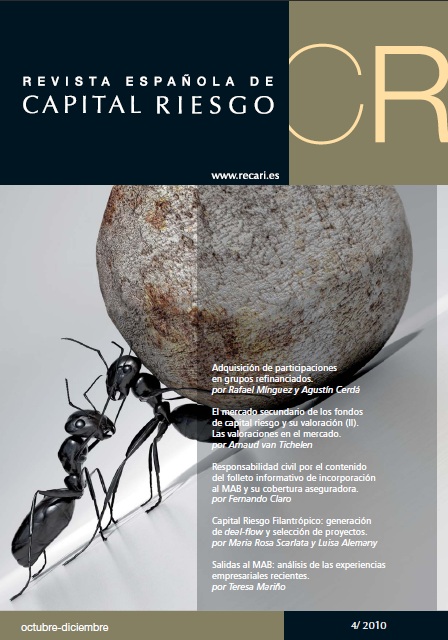 DIRECCIÓN REVISTA ESPAÑOLA DE CAPITAL RIESGO
Prof. Dr. D. Rafael Marimón
Catedrático de Derecho Mercantil
Universidad de Valencia
DIRECCIÓN BOLETÍN DE ACTUALIDAD DEL MERCADO ESPAÑOL DE CAPITAL RIESGO
Sr. D. Miguel Recondo
Instituto de Capital Riesgo (INCARI)